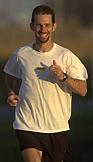 COACH CHAD WORTHEN
USATF LEVEL 2 COACH
Coach Chad began seriously competing in Track and Field his sophomore year at Roseville High School. Starting out as a sprinter he didn't too much success at the short sprints, failing to qualify for the sectional meet. After High School he went on to Sierra Junior College in Rocklin and moved up in distance to the 400 meters and Long Jump and well as the relays. After two years of not advancing past NorCal Junior College Trials, he moved up in distance once again when he walked on at CSU Sacramento to the 800 meters. He placed 6th in the America West Conference meet in his final collegiate meet in 1996. Realizing that maybe his potential was in the distance events he continued to move up until running his first Marathon in 1998. Since that time he continued to progress in the event with the peak being his personal best of 2:22 in 2002 that qualified him for the 2004 U.S. Olympic Trials in Birmingham, AL. Chad continues to compete in many road races in the area.
Education:
Graduated Roseville High School (1991)
Associate of Science Computer Science, Sierra College (1994)
Bachelor of Science Kinesiology Coaching Concentration, CSU Sacramento (1999)
Masters of Arts Sports Leadership, Concordia University (2018)
Running Experience:
30 Years competitive Track and Field, Cross Country, and Road Racing Athlete.
Competed in 400+ Road Races
Completed 12 Marathons
Completed 3 Ultra-Marathons
1989-1991 Competed for Roseville High School
1991-1993 Competed for Sierra College
1994-1997 Competed for Division I CSU Sacramento
2004 70th place U.S. Olympic Marathon Trials
1st place 2005 Pacific Association Road Race Grand Prix Long Series
2008 1st place San Francisco Marathon
2009 2nd place Eugene Marathon
2011 1st place Jed Smith 50K

Coaching Experience:
1994 Assistant Track & Field Coach Sierra College
1997 Assistant Track & Field Coach CSU Sacramento
1998-Present Various distance running individual/private coaching
2008-Present Fleet Feet Racing Sacramento Head Coach
2009-Present Fleet Feet FIT Head Coach
2010-Present Fleet Feet Oak Hill Racing Track & Field and Cross Country Head Coach/Founder
2015-Present Inderkum High School Cross Country Head Coach
2016-Present Inderkum High School Track & Field Head Coach
Coaching Philosophy:
I am of the opinion that everyone is different. Especially when it comes to coaching sports. What works for one person won't work for everyone. Specifically when talking about running some people get great benefits from running high mileage other people just get injured. The best type of training is the training that people will do day in and day out. Setting short term and long term goals helps people get motivated. Accomplishing those goals keeps them motivated. Variety keeps things interesting. Every piece of the training plan has a purpose.
Personal Records:
100m: 11.4 (1991)
200m: 22.8 (1991)
400m: 51.0 (1993)
Long Jump: 19'4" (1993)
800m: 1:58 (1996)
Mile: 4:23 (2001)
5K: 15:12 (2002)
10K: 31:36 (2002)
Half Marathon: 1:08 (2002)
Marathon: 2:22 (2002)
50K: 3:18 (2010)
50M: 6:47 (2013)